N A V I G A T I O N





Home






About King Quack Jr





Family Pictures





eBay Auctions





My Collection





Decoy Carvers





Shell Boxes





Deer Hunting





Duck Hunting





Hunting Videos





Vintage Photos





Articles





Hunting Humor





Links





eMail



Please note, the pages of this website contain numerous graphics. If you are using dial up connection, it may take a few minutes for the pages to fully load.

Thank you for your patience.

Are you looking for a particular decoy? Do you have a decoy to sell or trade? If so, please email Vince at: decoylover@att.net


About King Quack Jr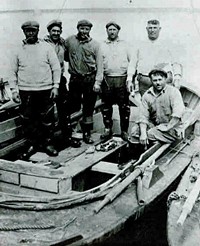 Vince Aiello
I was born in Pittsburg, California in 1947. My grandfather, Vincenzo "Zulido" Aiello immigrated from Italy and settled with relatives in Pittsburg. He commercially fished for salmon in Alaska and the Sacramento Delta until it was outlawed in 1956. My grandfather is the man seated in the boat in the picture. My father also fished with my grandfather but after salmon fishing was discontinued in California he moved on to other jobs.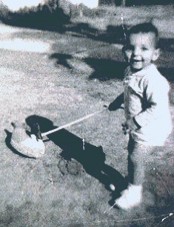 I started hunting with my dad as soon as I could walk. As you can see from the picture, I liked decoys at an early age! I had a bb gun at 7 years old and a pellet gun at 9 years old. I passed the hunter safety course at 11 and I've had a hunting license ever year since then. I hunted ducks on the islands around the Sacramento Delta and deer in the foothills below Mt. Diablo. I spent four years in the service; part of that time was in Vietnam. I'm married and have two daughters who love to hunt. I moved to Redding, California and was hired by the Shasta County Sheriff's Department in 1972.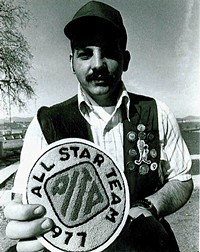 I took up trap shooting in 1973 and made the P.I.T.A All Star team in 1977 and I also won the Police Olympics that same year. I earned a classification of AA 27 AA. Also during this time I continued to hunt ducks, geese, turkey, quail, pheasants and deer. Shasta County is considered a rural area and the hunting and fishing is fantastic. I retired from the Sheriff's Department 1999, but have continued with my hunting and fishing.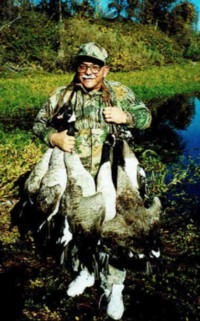 A few years ago, I help friends develop a duck hunting spot in weed, California just north of Mt. Shasta. The hunting area is considered high desert but we have a good supply of water flowing from Mt. Shasta. We were able to tap into this water and flood an area of approximately 80 acres. We can control the water flow and water level, and by controlling the water we were able to grow a good supply of duck weed. We can hunt most of the duck season and we are harvesting 75% mallards followed by widgeon, teal and sprig. The Canadian honkers are starting to show up and we are steadily increasing the harvest on them.

I started collecting decoys when I moved up to Redding. The wife of one of the deputies wanted decoys for decorations. At the time my dad still had a backyard full of decoys and of course I just helped myself. I then took an interest in decoys and found other people who shared my interest. I did the same thing most beginning collectors do, I picked up everything I could. I cleaned out my dad's backyard and storage shed. I then went to all his hunting buddies and picked up a bunch more decoys. I accumulated a large amount of birds and started going to the local shows. My collection started to refine and I decided to stick with west coast birds and mainly California decoys. I was also lucky enough to buy some large collections from some old timers that were getting out of the decoy collecting business. I had to hock the house on a couple of those deals, but it turned out to be a wise investment.
Along with decoy collecting, I started picking up shell boxes, duck calls, bird bands, decoy weights, decoy corn, hunting advertisements, American Indian items, cowboy spurs, and my new favorite shotguns 8 gauge or larger. I'm always interested in talking about decoys and hunting and of course I'm looking to buy great west coast decoys.